We were on our way up to Cardston in Alberta, Canada, and heading up I-15 in Montana.  All of a sudden, Sue yelled, "Stop!"  Well, I couldn't really stop because I was on the freeway.  But I pulled off at the next exit and headed back south.  Sue had seen a huge statue on top of the mountains east of the freeway.  We were in Butte, Montana.
That was our introduction to Butte.  The statue Sue saw was "Our Lady of the Rockies" and we pulled off at an area where they had a sign telling about the statue.  We didn't stay long, but later on that same trip, as we wandered around Montana, we ended up back in Butte for a day.
We were fascinated by the town.  Such architecture and history and mines all over the place.  At one point in it's history Butte was known as the richest hill on earth.
We'd love to go back and explore some more.  In the meantime, here are some attractions in and not far from Butte, Montana.
World Museum of Mining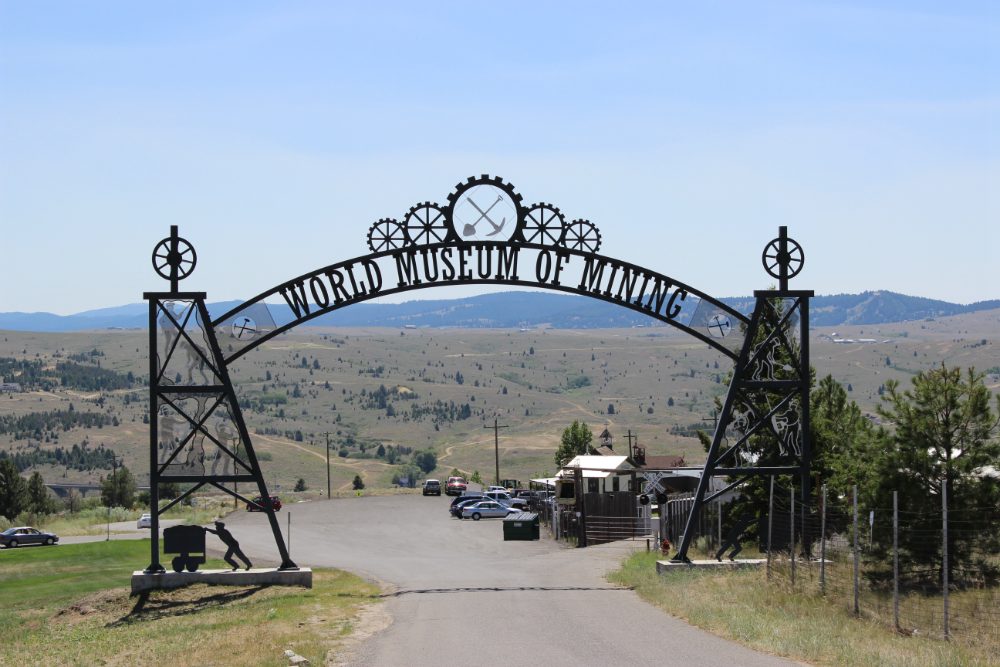 We loved our visit to the World Museum of Mining.  It's kind of like three attractions in one.  First, of course, is the mining.  There are several aspects of that.  There is a re-creation of an old mining town, with lots of period building to peek in and see the interesting things from that era.
Second is the mineral room, with a great collection of mineral samples of all kinds and types.
Finally, there are also mines, including the Orphan Girl Mine, which you can go into, for an extra fee. You don hard hats with flashlight attached, and a battery pack and walk a brief distance down into a mine with a guide for a fascinating view of the real thing.  Geology or Mining students from neighboring Montana Tech lead the tours, and sometimes, retired miners even take you down.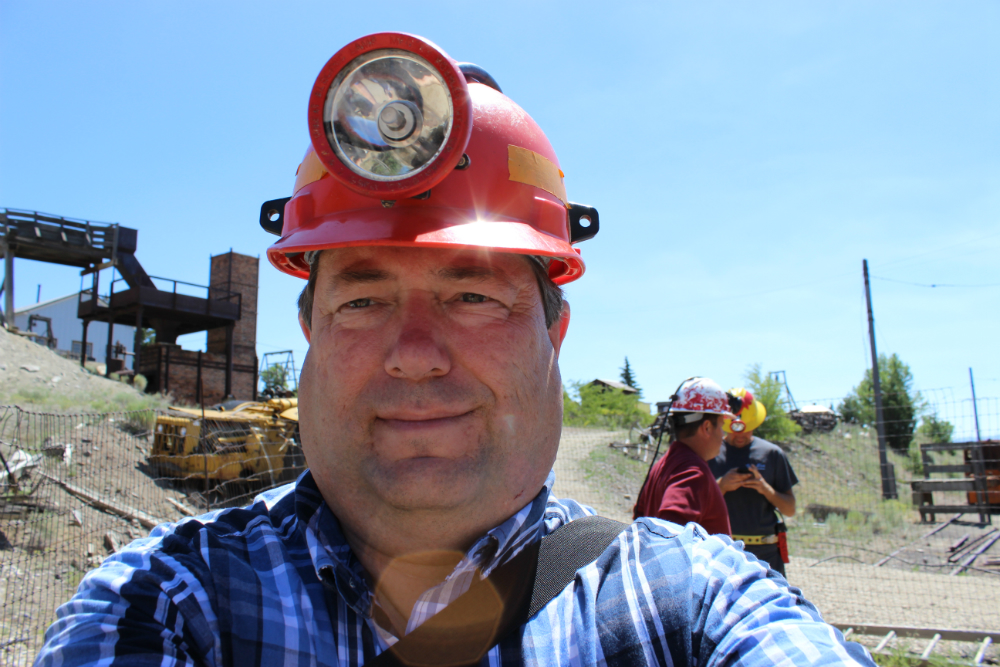 There is also various types of mining machinery that you can walk around and inspect.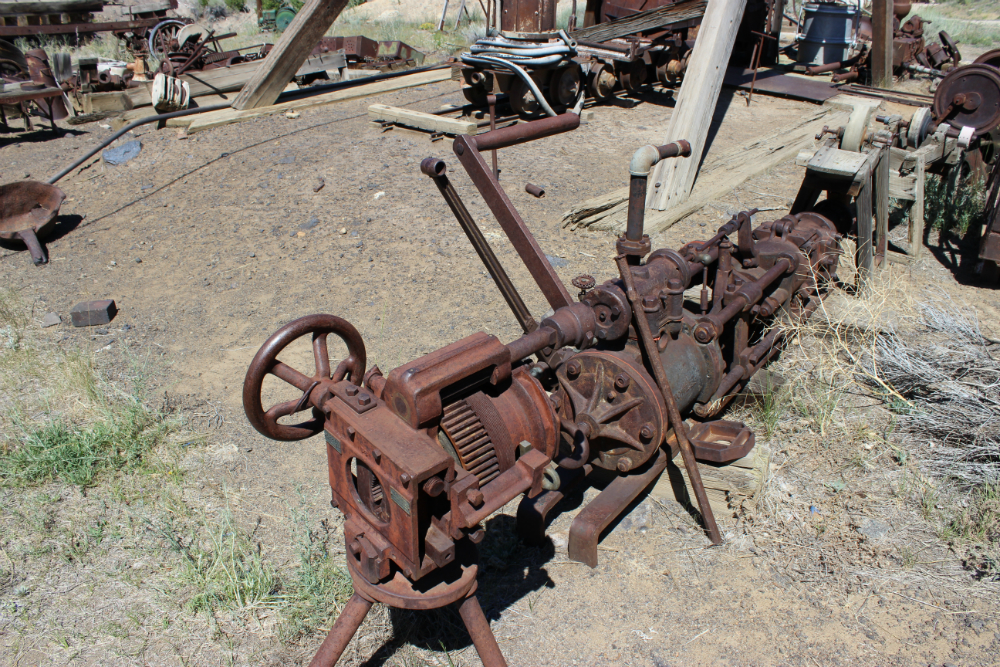 Finally, there is the Doll Museum.  Yeah, I know, doesn't seem to belong in a museum about mining.  but I loved looking around.  Oh, and don't think of it as dolls.  Most of it is action figures of various kinds.  Tons of them.  All of types and group and sets.  From Star Trek to Gilligan's Island to Dukes of Hazard, to Happy Days and the Beverly Hillbillies.  Yes there are dolls, but anyone will have great fun checking this place out.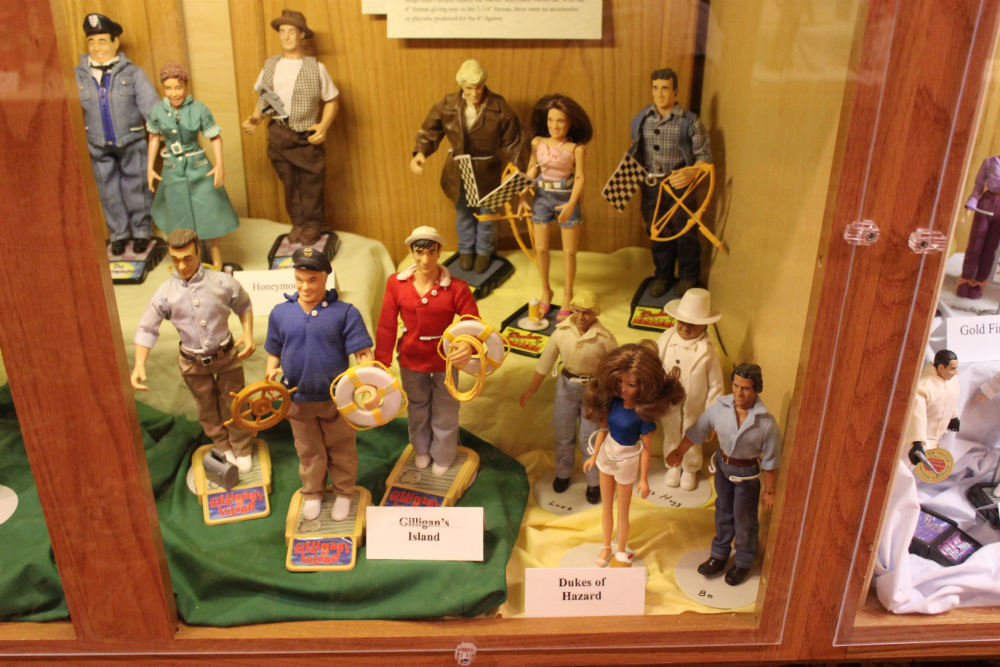 Our Lady of the Rockies
As we experienced, it's hard to miss Our Lady of the Rockies.  She is a 90 ft statue of Mary at the top of a mountain.  At night, she is all lit up and quite the sight.  In fact, she is the second tallest statue in the United States, second only to the another famous lady, the Statue of Liberty.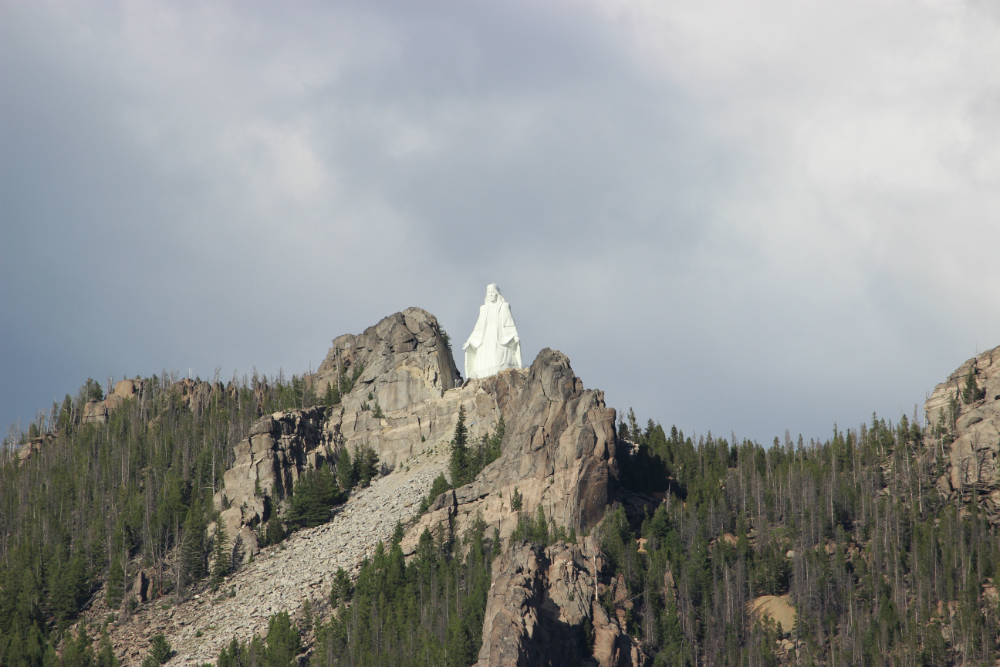 It took six years of hard work to create the statue and started in Dec 1979. It was lifted in four sections by a Nevada Air National Guard helicopter team and reassembled on top of the mountain.
On the sign at the pullout area just off southboard I-15, it says:
Our Lady of the Rockets and an adjoining interfaith chapel are a tribute and honor to all women of every creed and nationality and are a symbol that expresses thanksgiving for the loving memories and actions of women.
You can take a bus tour to the top from June to October, weather permitting.  I'm sure that would be a stunning view.
MBMG Mineral Museum
The Montana Bureau of Mines and Geology Mineral Museum has some of the finest examples of rocks and minerals in all the world.  It currently has 13,000 specimens, 1,000 of which are on display.
The museum includes 10 meteorites, prized specimens from Montana, including a beautiful smoky quartz cluster and a large gold nugget recovered in the mountains south of Butte.
The museum is located on the campus of  Montana Tech, which is right next door to the World Museum of Mining.  And it's free!
Copper King Mansion
The Copper King Mansion is a 34-room Victorian mansion and was the residence of William Andrews Clark, one of the Montana "Copper Kings".  William became one of the wealthiest men in the world.    It is said that the cost to build the mansion in 1888 was about $500,000.  Incredibly expensive at the time, but a gorgeous memory of this period in Butte.
Tours of the mansion are available four times a day May through September.  It is also a bed and breakfast and overnight guests get to take the guided tour free during the summer.
Charles W. Clark Chateau Museum
Charles Clark was the eldest son of the William Andrews Clark (see the Copper King Mansion above).  The Clark Chateau was built in 1899 and modeled after a French chateau that Charles and his wife had seen on their honeymoon.
It was also the home of a U.S. Senator and his family, the Butte College of Music and the Shriner's Fez Club.
The home is currently a museum, highlighting the building's architecture.  It also includes temporary exhibits.  There are guided tours that provide access to all four floors, including the fourth-floor ballroom.  It is used for a variety of events, including Open Mic nights, art exhibits, performances by various artists, plays, speakers, and even Halloween parties!
Butte Trolley Tour
The trolley tour is a great way to see the city of Butte, Montana and learn about it's rich mining and cultural history.  The tour takes about two hours.  You'll hear from local experts on the area and get see the National Historic Landmark District, including the most of the locations mentioned in this post.
The tours run daily from Memorial Day to September and cost from $8 for children to $17 for adults.
You can find information about tours, current prices, and reservations at the Butte Chamber of Commerce website.
Mai Wah Museum
The Mai Wah society is dedicated to research and education regarding the history of the Asian people in the Rocky Mountain West.  It collects and preserves artifacts and historic buildings and sites.
The Wah Chong Tai company and Mai Wah Noodle Parlor buildings, shown above, are some of the most important of these sites and house the Mai Wah Museum.  Currently the museum is displaying the Butte Chinese Experience exhibit, telling the story of the thousand of Asians who came Montana and other inland western areas between 1860 and 1940.
The museum is open for walk-ins from June to September, but will accommodate visitors all year long with advance notice.  Admission is $5 for adults and #3 for children.
See the Mai Wah Society for more information.
 Piccadilly Museum of Transportation
This museum is open from Memorial Day through October 1, other times of the year by appointment.  Admission is free, but they ask that you consider a small donation.
The museum is a public showcase for a large collection of transportation memorabilia, gathered over 25 years.  Exhibits of highway and subway markers, license plates, vintage cares, have been gathered from all around thew world.
The Berkeley Pit
Just on the outskirts of town, the Berkeley pit is a former open pit copper mine, about 1 mile long by 1/2 mile wide.  When the pit closed in 1982, the water pumps in the nearby mine were turned off and groundwater slowly filled the pit, and continues to rise, even today.  It is now about 150 feet below the natural groundwater level.
The problem is that the water is heavily acidic and heavy metals and dangerous chemicals leach from the surrounding rock.  When the pit water reaches the natural water table, in about 2020, the pit water will flow back into the surrounding ground waters and will pollute Silver Bow Creek, which flows into other rivers, and so on.
Plans to prevent the backflow make this one of the largest Superfund sites.
You can visit the pit and its viewing platform.  It is open from late May through September.  There is a small admission charge. Call 406-723-3177 for more information.
Granite Mountain Mine Memorial
The Granite Mountain Mine Memorial is a memorial to remember those that died in a horrific fire in the Granite Mountain Shaft.  168 miners lost their lives on June 8, 1917, the worst disaster in metal mining history.   It is remarkable that anyone survived.
The plaza gives the story, remembers those that perished, provides a view of the Continental Divide, and an eagle's view of what is left of a booming mining industry that made this area so rich in its time.
Downtown Walking Tours
Guided downtown walking tours of Butte are available from April to September, but you can arrange a tour if you are visiting at another time.
A variety of tours are available; all are family friendly.  They cover every decade from the 1890's to the 1950's.  You'll have great fun learning about the amazing history of Butte in the largest National Historic Landmark District in the country.  There are over 6000  historic buildings and mines and they hold a lot of history.
See Old Butte Historical Adventures for more information.
Mother Lode Theatre and Orphan Girl Children's Theatre
The Mother Lode Theatre is the place to be in Butte for shows.  This theater was originally the Temple Theater before going through a $4 million dollar renovation to bring it up-to-date.  It seats 1202 and is a popular venue for local, regional, and national touring productions.  In the 2016-2017 season it is hosting such productions as Fame, Once, Barefoot in the Park, The Doo Wop Project, and Forbidden Broadway.
The Mother Lode Theatre is also home to the Butte Symphony Association and the Butte Community Concert Association.  Concerts are also held in the theater.  In 2016-2017, they include An Evening of Stories in Music, An Evening with Bizet, and A Holiday Concert.
See Butte Center for the Performing Arts for more information.
The Orphan Girl Theatre is located in the same building as the Mother Lode Theatre is a smaller 106 seat children's theater.  It is named for one of the early Butte mines (located in the World Museum of Mining) and offers excellent theater by young performers.  It has been recognized by the President's Committee on the Arts and Humanities, and the National Downtrend of Arts, among others.
In 2016-2017, the Orphan Girl Theatre is performing shows such as Duck Ugly, Charlotte's Web, The Miracle Worker and others.
If you love theater, these are excellent choices to take in a show during your visit to Butte.
Lewis and Clark Cavern State Park (42 miles)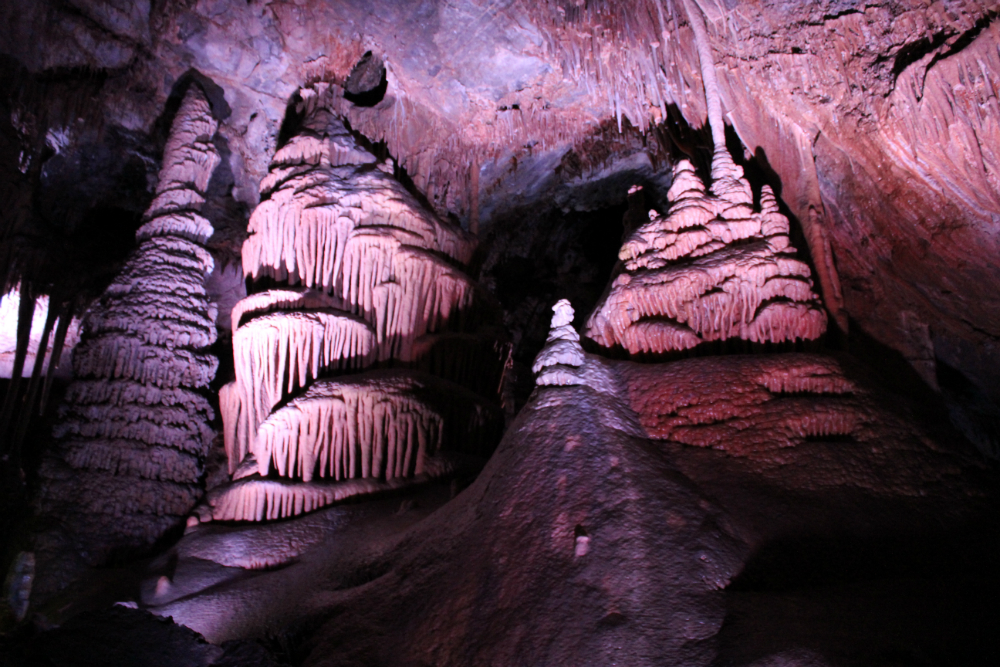 While not in Butte, the Lewis and Clark Caverns State Park are not far, only 42 miles and are well worth a visit.  We've visited several caves and caverns and these were definitely unique.  There was a lot more ducking, squeezing, shimmying, and other moves to get through the caves.
The visit requires a hike up to the opening to the caves, but you'll have a great payoff if you make the effort.  They are beautiful inside and will be a highlight of your visit.
Tours of the caves are given May 1 to September 30.  They take two hours and leave every 30 minutes.  The fee varies from $5 for children 6-11 to $12 for ages 12 and up (including adults).
You can get more information at Montana State Parks.
In addition to all the above, there are farmers markets, bike races, the Montana Folk Festival, Evel Knievel Days, An Ri Ra – The Montana Irish Festival, Ice Sculpting contests, and many more.
We'd love to go back and explore Butte some more.  We'd also love to hear about some of your favorite places to visit or favorite events to attend in Butte.  Let us know in the comments what else we should know about Butte, Montana!