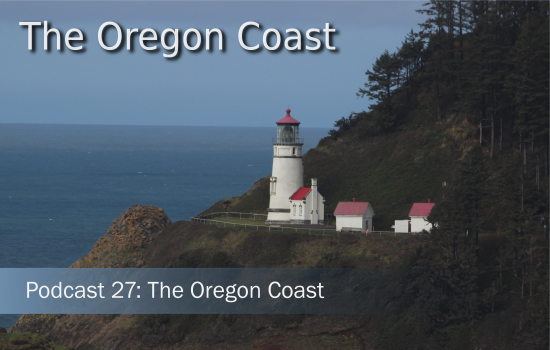 After our stay in Ashland, we headed up the Oregon Coast with our son, Brian.  We wanted to visit the beautiful coast, share it with Brian, with our eventual goal to go on a whale watching tour in Depoe Bay.
Podcast: Play in new window | Download | Embed
Subscribe: Apple Podcasts | Android | RSS
Along the way up the Oregon Coast, we checked out beaches, lighthouses, whale, sea lions, along with a fabulous lunch at the Bandon Fish Market.  The whale watching tour will be in Podcast 28.
We loved the Oregon coast.  I think that Sue and I could say that it's definitely one of our favorite places that we have visited.   There are a ton of things to see and do, but time so frequently limits us and we had to cram in a number of things, but not get to see everything.
While March was a great time to visit in terms of smaller crowds, it had the disadvantage that the weather was a little bit more challenging, and some attractions were closed.  We had one cold day and several wet, windy, rainy days.  None of the lighthouses were open for tours yet, so that was disappointing, and we were in the first whale watching tour of the year for the tour company we went out with.  But we had a great time, nonetheless.
You can read about or listen to us talk about our 2014 trip down the Oregon Coast on the following pages:
Tillamook Rock Lighthouse
Northwest Lighthouses : Podcast 21
What we Visited Along the Oregon Coast
Links for things that we mentioned in the podcast:
Heceta Head Lighthouse Bead & Breakfast
To listen to this podcast episode later, you can copy it to your computer and then listen.
Right click here and then choose save-as to download this episode to your computer
Or you can subscribe to the podcast in iTunes or Stitcher.