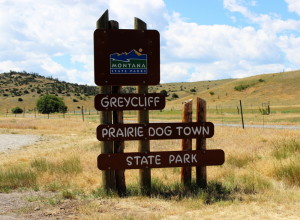 Right next to I-90 in southeast Montana between Billings and Bozeman is the Greycliff Prairie Dog Town.  It's literally just a minute from the freeway.  In this 98 acre park, you can see a large number of prairie dogs.  And you can hear them!  When there isn't traffic buzzing by on the freeway, listen quietly to hear all the call that they make.  It's great fun to stand there for a bit and watch and listen.  Binoculars will be helpful in looking all over the town.
Just at the entrance to the park is one of the normal Montana State Park information boards (hate to say it, but these boards seem more about just stating the general rules for all Montana State Parks and only very brief information about the current park).  Then you drive a very short distance to where the parking area for the prairie dog town is.  Make sure to look on both sides of the road as you head to the park.  We saw nothing going in and many going out.  We hadn't been very watchful because there are plenty of prairie dogs to look at even right there.
The burrows that these prairie dogs dig are quite extensive.  Each burrow has two entrances and include a tunnel that is as deep as 7 feet deep and as long as 25 feet long.  That's a pretty good size burrow!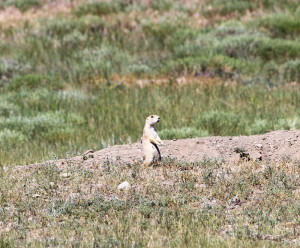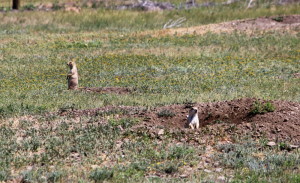 There are picnic tables (although no shade) if you want to take some time for a picnic while you are watching the prairie dogs (but don't feed them).
Normal Montana State Park fees apply, so if you don't want to spend the $5 and don't have the annual pass, there are other prairie dogs towns available, especially at First Peoples Buffalo Jump (yes, we went there also, post coming soon!).
Enjoy the dogs!