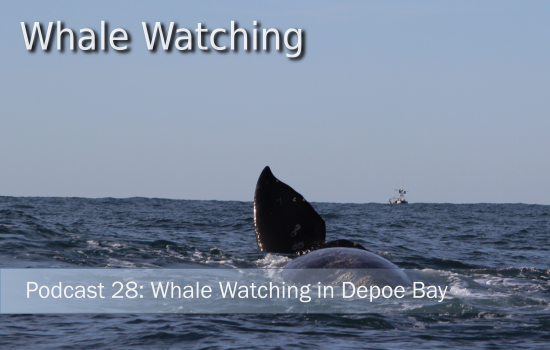 As part of our tour up the Oregon coast, we had a fabulous visit to Depoe Bay, Oregon where we got to go on a whale watching tour. The morning was cold and it was the tour's first trip on the water of 2016.  But we saw whales!  Listen to our story!
Podcast: Play in new window | Download | Embed
Subscribe: Apple Podcasts | Android | RSS
Weather was windy and rainy as we headed up the Oregon coast and when we got to Whale Research EcoExcusions we were disappointed to find out that the water was too rough and that they would not be going out on the water that day.  However, they added a trip the next morning to accommodate us and after getting up early to temperatures in the 30s, we finally got out on the boat and within 10-15 minutes, saw our first whale!  There was not a lot of activity yet, but we were lucky enough to see a total of 5 whales!  There was a group of three whale playing in the bay and then a couple that were heading up the coast.  Fabulous trip that we'll remember for a long, long time!
Links for things that we mentioned in the podcast:
To listen to this podcast episode later, you can copy it to your computer and then listen.
Right click here and then choose save-as to download this episode to your computer
Or you can subscribe to the podcast in iTunes or Stitcher.