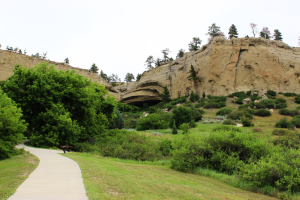 Here's a fun little park just south of Billings, Montana – Pictograph Cave State Park.  It's tucked away up a small canyon/cove and includes three "caves".  Since it's right south of Billings, if you are staying there for the night, it's a quick trip down to see it after you get settled.  Or if you are passing through, it won't take much to drop by and see the place.
Unlike many of the Montana State Parks that we visited, this one actually had a visitors center. Yay!  I'm sure that there are more, but I think of the ones that we visited, only Pictograph and Lewis and Clark Caverns.  If you are looking for the out of state annual pass, you'll either need to buy online or get at one of the visitors centers.  Otherwise you're stuck paying $5 each time.
There are actually three caves here, but not caves in the sense that you would normally think of (stalagmites, stalctities, bats, etc.).  They are more like overhangs that provided some amount of shelter for the Native Americans who found them and lived there.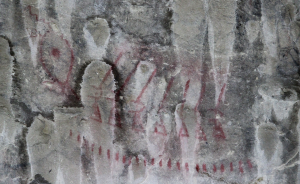 There is a steep, but short hike to each one.  The first one, called Pictograph Cave is the one that actually has pictographs in it.  It's the site of one of the first digs in Montana and over 30,000 artifacts of various kinds were found, so these caves were used a LOT!  Unfortunately, the artifacts were not tracked well and they don't know where most of them are today.
There are over 100 pictographs, but most are hard to see.  Some of these pictures are more than 2100 years old.  The guide told us that when moisture is seeping through, it makes some of them much easier to see, but alas, we were there during drier times.  Some binoculars would help you be able to see the pictures much better.
We didn't hike to the second one, called Middle Cave.  I don't believe that there was much art there.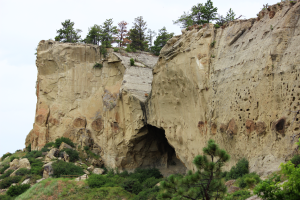 We did hike to the third cave,called Ghost Cave, and although there wasn't any art there either, it has a very interesting geologic feature, called concretions.  They're kind of like snowballs, but made out of limy sandstone.  Something started gathering deposits on the bottom of the seas that used to cover this area,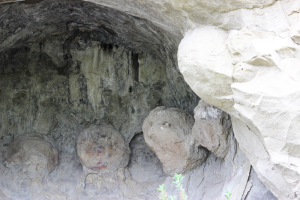 something like a clam shell or a sea shell.  As the waves or the motion of the water on the bottom rolled the shell back and forth over many, many years, it slowed gathered layers, kind of like happens with a snow ball.  After the seas receded, the concretions were just left there and there are not a lot of them in this area, all at the same level of the rock.  I saw them in other areas as we drove along the road to get to the park.
This park has some picnic facilities, but no camping areas.  There is a trail guide to give you some information about things you are seeing as you walk the short trails to the caves.
See Pictograph Caves State Park for more information.
Here is a map of the park and the fees.
See our Flickr Slide show for more pictures, the YouTube Video we made of our visit, and a map of how to get there below.
Have you been to Pictograph Cave State Park?  What did you think?