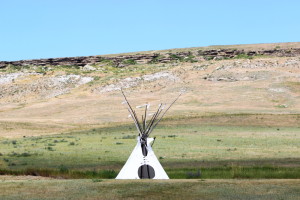 A day or so after visiting Madison Buffalo Jump, we visited First Peoples Buffalo Jump State Park near Great Falls, Montana. What, another buffalo jump?  Yes, buffalo were plentiful back then, and this was a proven way for the Native Americans to get what they needed.
But this buffalo jump was different than Madison.  First, it has a visitors center.  A really nice visitors center, with helpful people, and fun things for the kids to look at and touch.  And our ranger was really nice and knowledgeable and excited about the park.  So that was fun.
Next, this buffalo jump is really, really long.  I think it's about a mile long, so there is really large plateau that can hold a lot of buffalo.  I believe it's one of the longest known buffalo jumps.
Finally you can hike to the top of the buffalo jump, like at Madison.  I don't remember how long it was, but it was a hot day, so we didn't do that.  But you can DRIVE to the top of this buffalo jump, unlike Madison.  So drive we did.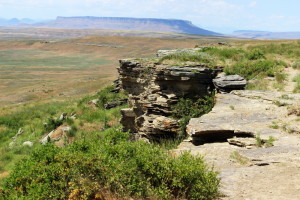 At the top, not only are you rewarded with a spectacular view, but you can get up close and personal with the actual cliffs that the buffalo were driven over.  It was easy to see how they would be injured or killed.  You also get to see a huge prairie dog town, which was fun to watch and listen to.
So if you have a choice and can't do both, visit this First Peoples Buffalo Jump.  And if you can't visit Greycliff Prairie Dog Town, come see this one.  It's kind of a two for one.  And that's a good thing.
Here's the map to get to First Peoples Buffalo Jump.
If you go, there are fees and here is a place to get some more information.
Awesome place, highly recommend you visit this park.
Here's a first hand account and visit: