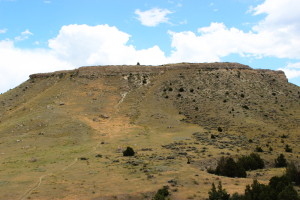 The first you notice when you get to Madison Buffalo Jump State Park in Montana is this big mountain with a flattish top right in front you.  Apparently this is where it all happened.  After we walked from the parking area up to an interpretive area (even though the map said you could drive up and it looks like there used to be a road up there), you can really see the big mountain with the flattish top and the signs now tell you how the Native Americans accomplished the feat of herding buffalo in such a way that they would stampede over the cliffs, be killed when they hit the earth below and be harvested by those waiting below.
While this might all seem kind of brutal, it was a key to the survival of the Native Americans who did this.  They not only harvested the meat, but almost everything else on the buffalo were also used.
By the way, the Native Americans trained up certain young men of the tribe to learn the ways of the buffalo and obtain this skills necessary to herd the buffalo over the cliff.  Dangerous job for them, so important for the tribe.
There were apparently trails to take to walk to the top of the buffalo jump and I'm sure that would have been interesting, but the maps were a bit confusing, and we did not take the time to try and figure it out.  If you want to go to the top of a buffalo jump, First Peoples Buffalo Jump, also in Montana has a well marked trail to the top, or you can drive!
This state park is located just south a bit from Three Forks, Montana off of I-90. Here's how to get to it:

View Larger Map
Oh and by the way.  if you want to see the very beginnings of the Missouri River, the Missouri Headwaters State Park is not far from Madison Buffalo Jump State Park.
If you want to see a first hand view of the park, see the video below: