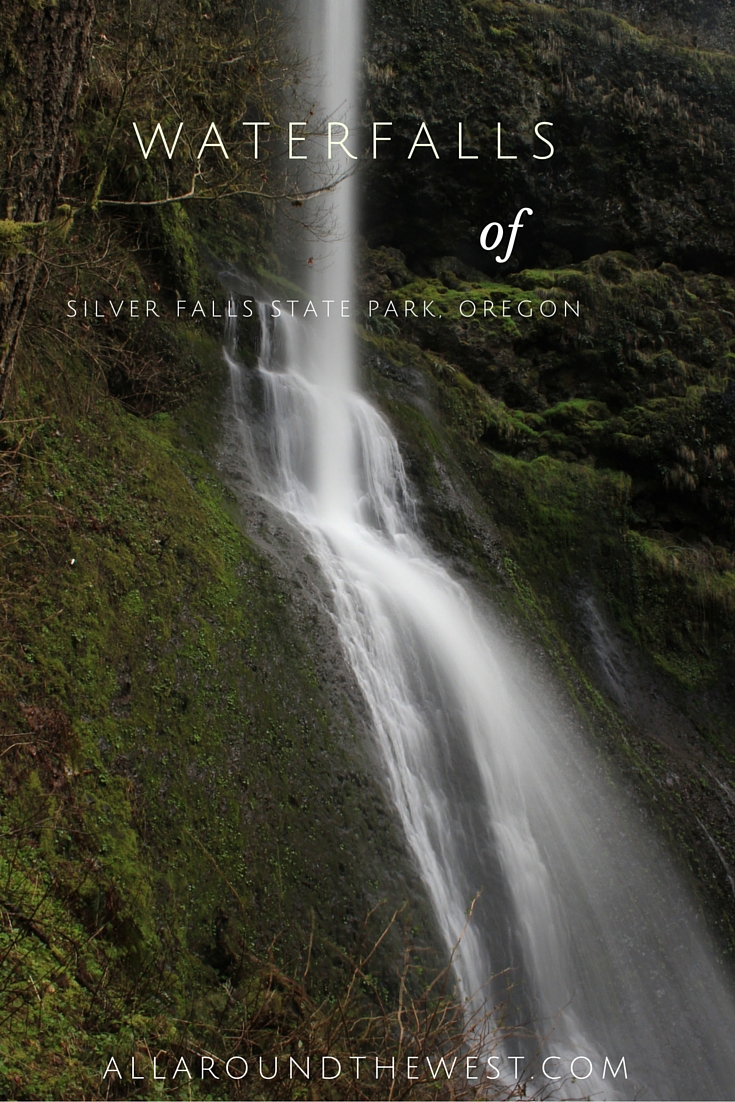 On our way from Ashland to Portland, we took a couple of side trips, one to the Oregon Vortex and the other to Silver Falls State Park, where we spent an entire day.  What a place!  We had no idea that there were soooo many waterfalls in Oregon, and that was evident during the day that we spent exploring this beautiful state park.
I don't even remember how we decided to visit, but we were leaving Salem and heading to Portland and decided to visit this state park.  We love going to our national parks, national monuments, and state parks, so they are usually the first things that we look for when we are exploring an area.
As we visited Silver Falls State Park, it was a pretty busy day, it seemed like.  It was a Saturday, and the weather, unlike previous days, looked like it was going to be a nice day, free of rain.  So it brought lots of people to the park.
There is a trail that goes in a loop around the park called Trail of Ten Falls.  Sue loves waterfalls, so naturally we decided to take the trail.  Only problem is that it was a pretty lengthy walk around.  In the end, we made a quick "short cut" at the end and visited a couple of falls by driving to a different trail-head.  But the Trail of Ten Falls was a fabulous hike.
The western part of Oregon is gorgeous to begin with and we soon found ourselves in a rain forest type area with moss, ferns, and green everywhere.  And then there were these beautiful waterfalls, 10 of them!  It was great!
It's a short walk from the parking lot to the first one, South Falls.  If you can do nothing else, visit these falls.  And if you have a little bit more time, do Lower South Falls.  At that point, there is a loop where you can head back to your car.  Or you can continue around the canyon and rim like we did.
On the way to South Falls you pass South Falls Lodge, which would be a great place to get lunch, snacks, or ice cream if you take the short loop back.  The trail is paved all the way to South Falls.
South Falls is a 177 foot waterfall with the trail going behind it so you get an up close and personal view of the waterfall.  In fact, there are a number of waterfalls in the park that you can walk behind, so that is kind of unique.  We saw a number of other waterfalls on this trip, but this is the only place where you could walk behind them.  Totally awesome view and obviously a very popular set of water falls.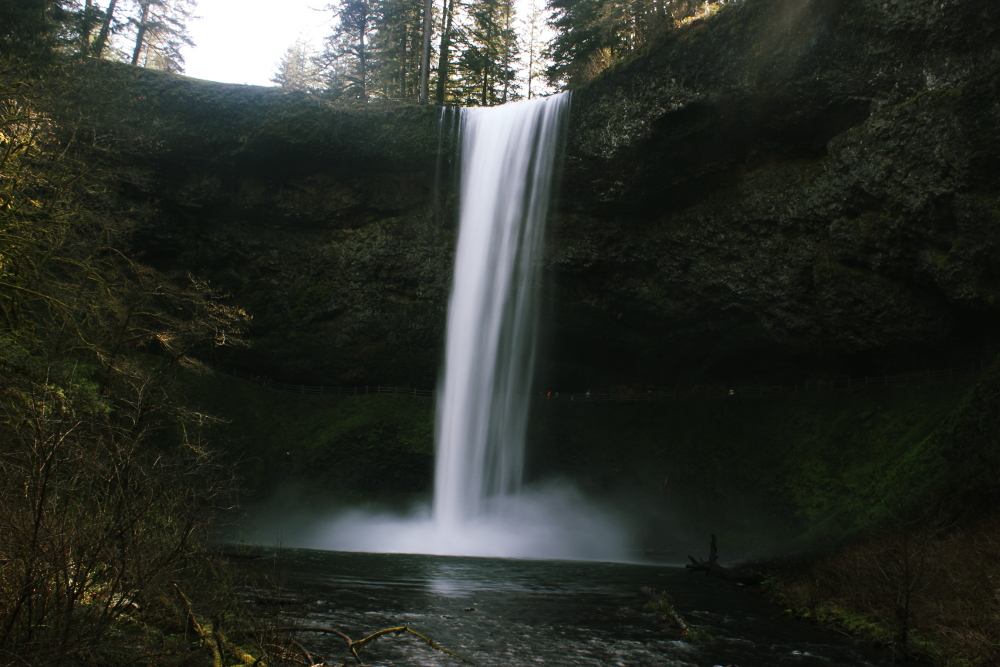 After you leave South Falls, you head about a mile to get to Lower South Falls.  These are not as high, 93 feet, but just as gorgeous.  Lower South Falls had a number of other smaller cascading falls just behind, near the bottom, which added to some of the uniqueness of these falls.  Like I said, if you can just do these two falls, it is totally worth the visit, the entry fee, and the fun walk.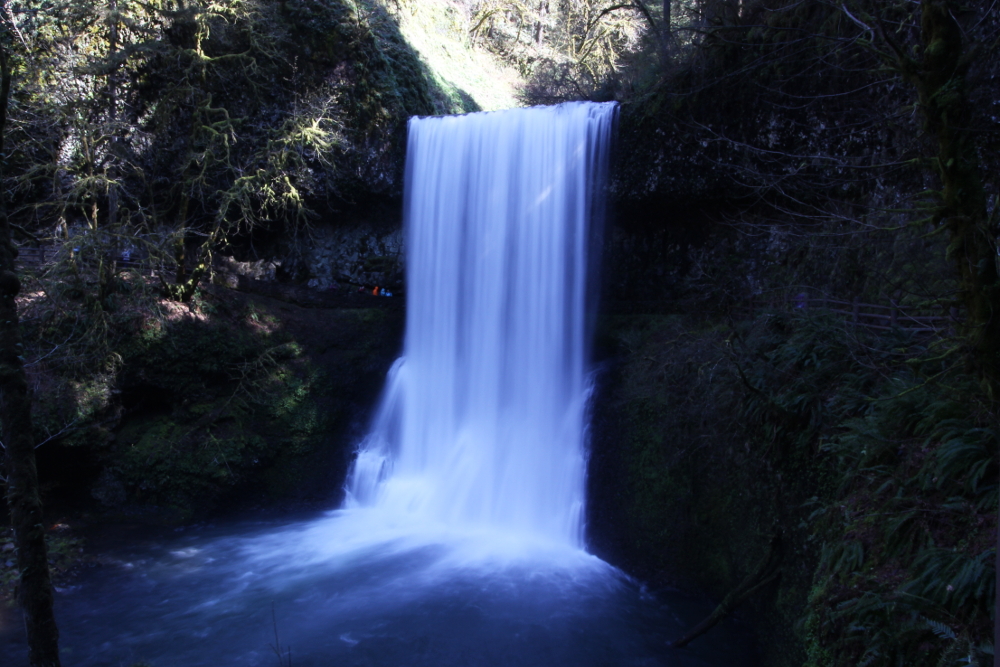 At this point, it's just a short distance more to the junction for the return loop and if you wanted to head back to your car at this point, it's a pretty easy walk back up out of the canyon and to the parking lot.
It's a sizable walk from Lower South Falls to the next set of falls.  Fortunately you are treated to this amazing rain forest area that is full of surprises and things to look at.  There are numerous other smaller waterfalls that are probably appearing because it is early in the season and snow melt from higher altitudes is bringing extra water to this area.  We had great fun seeing all the other falls that appeared in some many places and in so many shapes and sizes.
Eventually, you'll end up at Lower North Falls–later we'll visit North Falls and Upper North Falls, but this is the first of six other falls that we visited as we made our way around the trail.  Lower North Falls is fairly short, only 30 feet. But there is this huge tree that has fallen down right in front of it, which gives it unique view. This is the farthest waterfall from the beginning.  There is a  large pool of water at it's base.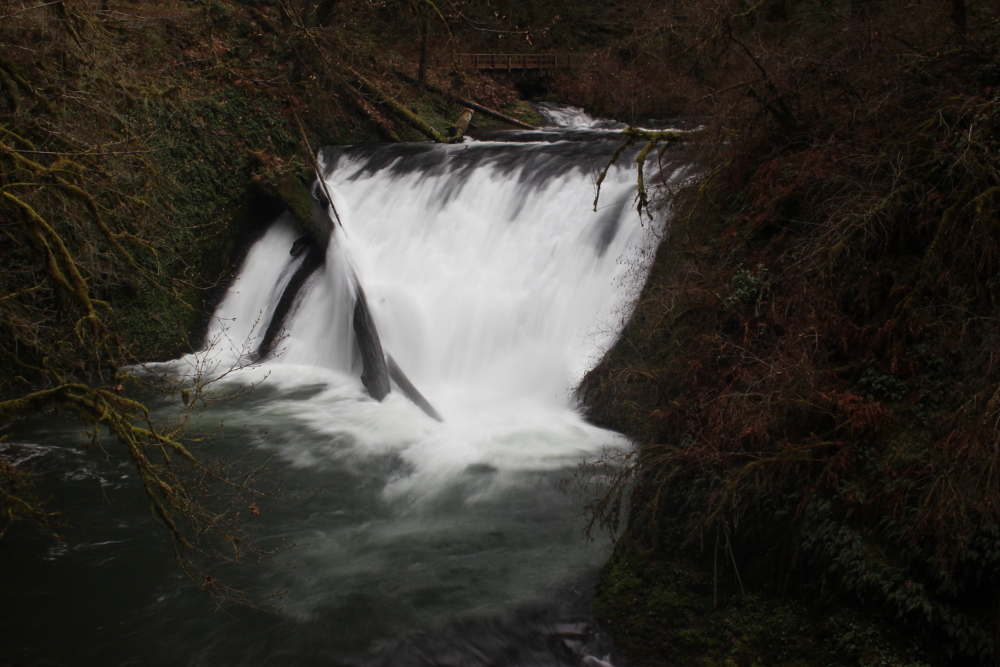 Next is Double Falls, named for a first set of falls that are quite high above the trail and then a second set of falls that are much larger for a total of 178 feet.  This set is on a very short spur off the main trail.  It's not as much water as some of the other falls already seen, but impressive in it's own way.
Heading on around, we arrive at Drake Falls, which are the smallest of the falls, at only 27 feet. There aren't many great vantage points for these falls.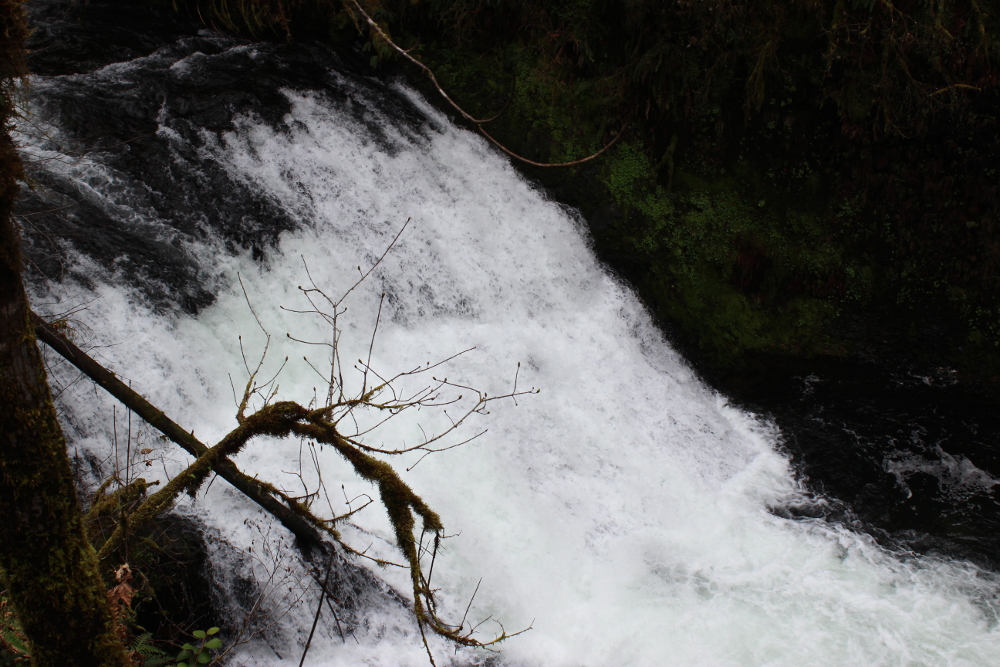 Now you have a choice to make.  You can head over to Twin Falls and then come back and continue around the trail, you you can continue on and hit North Falls (and perhaps Upper North Falls), and then continue around the loop.  We opted to cut off a significant portion of the trail and hit North Falls and Upper North Falls from the North Falls parking area.  This probably saved us about 2 miles of walking and with the day getting later in the afternoon we opted to treat the trail to Twin Fall like a spur of about .6 miles round trip.
Twin Falls are also not very tall at only 31 feet and due its location, probably one of the least visited of the falls in Silver Falls State Park.  The falls don't have a great place to view from.  There is a jut of rock in the middle of the falls that splits the creek into two channels, which effectively creates two similar falls together.  You'll have to see when water flow is high as the twins are not as visible in dry time.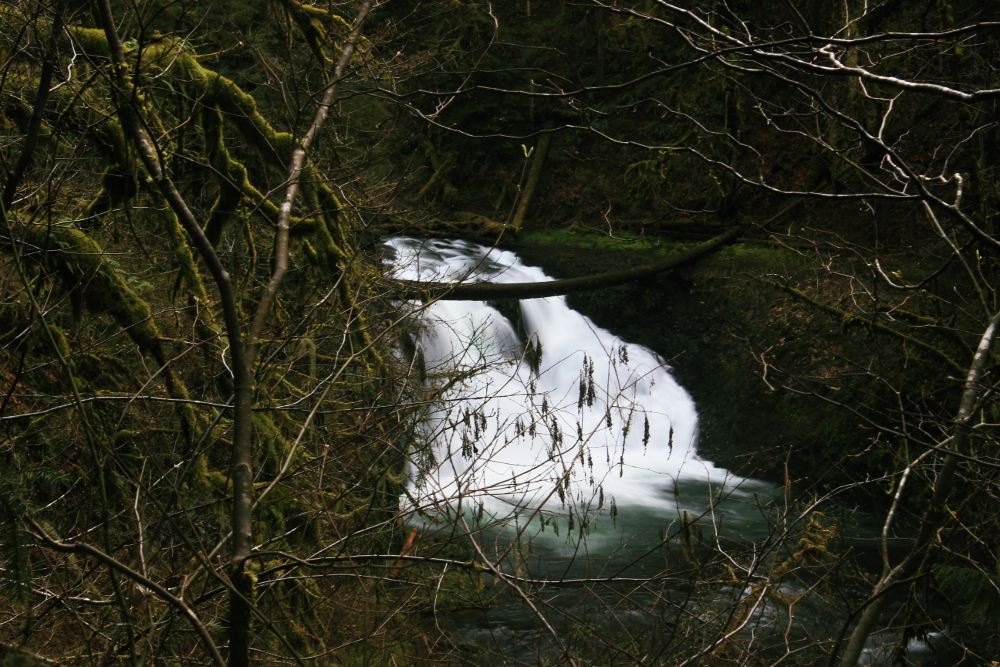 After returning to the main trail loop, the last falls before you head up and out the canyon are Winter Falls. These are 134 feet high and have a beautiful appearance because they cascade onto a rock face about half way done, and then tumble down the rock the rest of the way.  There is a trail that goes around the backside of the falls where I'm sure there are some spectacular views.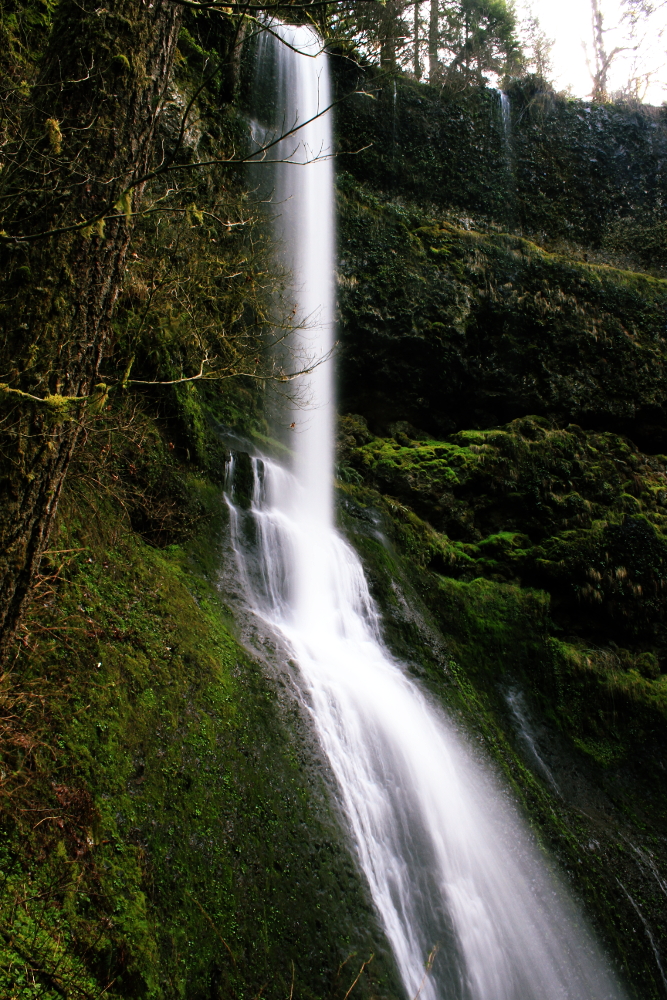 After leaving Winter Falls, you climb back up out of the canyon and then it's a good mile to get back to the parking lot.  Just out of the canyon there is a parking area, so if you need to have someone pick you up, this is the place to do it.  Otherwise, its a pretty easy hike back to your car, albeit at the end of the hike.
After we returned to our cars, we heading over to the North Falls Trail head parking lot and made our way to North Falls.  There are stairs to get down to these falls.  At 136 feet tall, these were spectacular, having a lot of similarity to the South Falls.  When we went, in March, there was enough water that there were some small side falls as well.  At the end of a long hiking day, the climb back out, up the stairs, was a pretty good challenge and we were glad to get those behind us.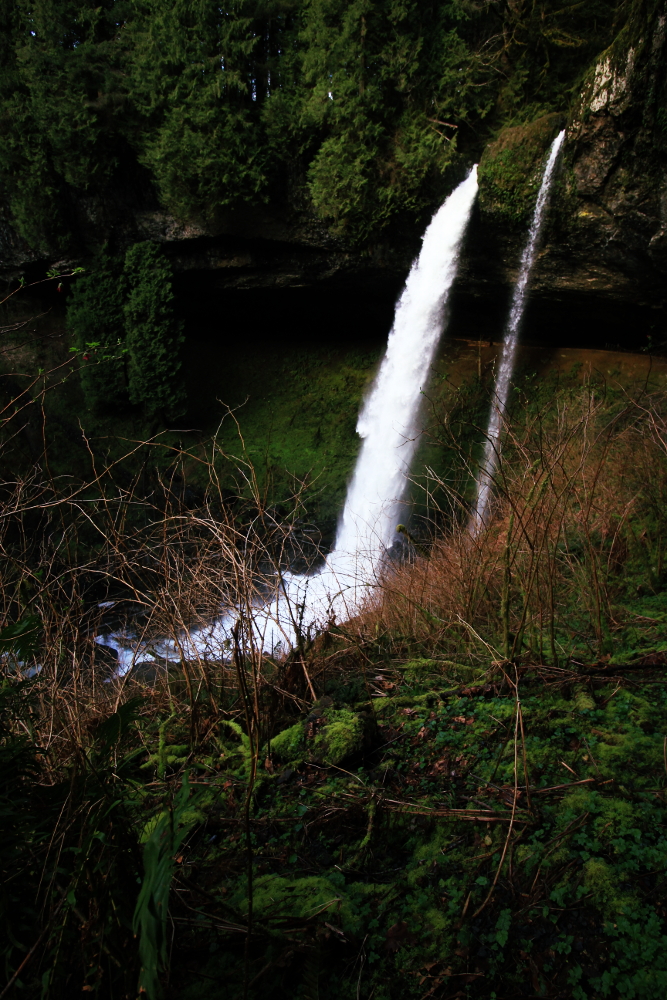 That left one set of falls to visit.  Upper North Falls are on the other side of the road and then a quarter mile up the trail.  It's just out and back, and pretty easy walking.  I loved these falls. They are only 65 feet tall, but seeing them from eye level, with the river they they empty into right in front of you was a great view. They were a great ending to a day seeing some spectacular falls.  We had never seen so many in one day.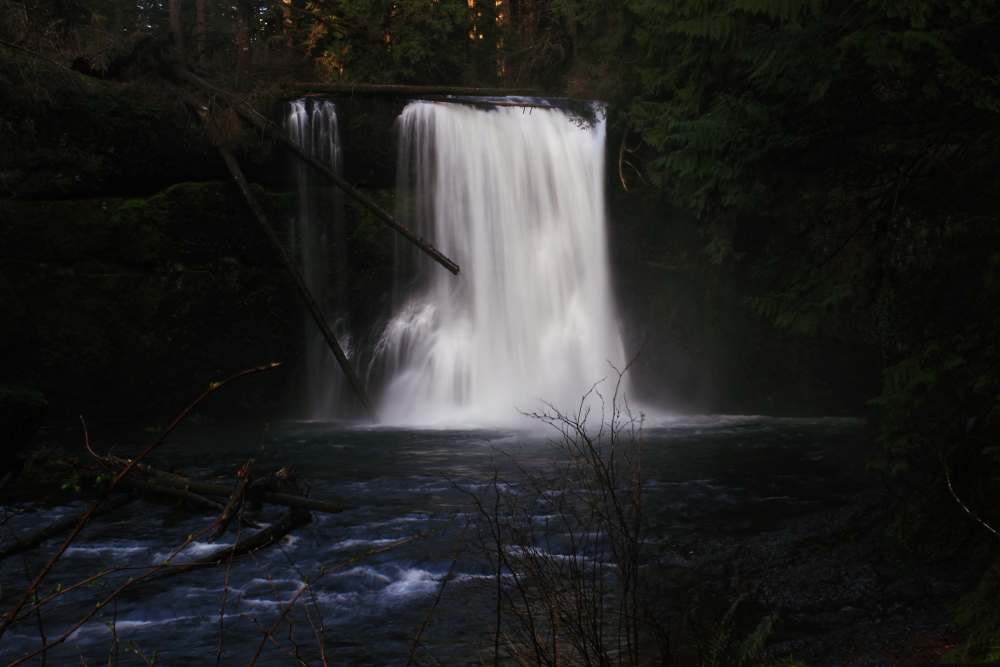 All in all, that was a fabulous day with some great scenery.  We highly recommend Silver Falls State Park.  The only downside is that there are NO bathrooms along the loop, except if you hike to North Falls as part of the loop.  I'd tell you to be prepared for that, but not sure what to tell you to do, other than to make sure that you use them before you leave on the loop. It's important to drink water when you hike, so that's a bit of a challenge when there are no bathrooms available.
Don't let that discourage you, though.  The views are well worth the time and effort.
[scottsuesig/]