Last month, we had the chance to spend a few days in Ashland, Oregon.  Our son, Brian Russell Carey was appearing in Ring of Fire at the Oregon Cabaret Theatre, so we made the trip up to see him perform and spend a couple of weeks in Oregon.  We loved it!
Ashland is a small town of about 20,000 nestled in the foothills of the Siskiyou and Cascade mountains.  It's most famous attraction is the Oregon Shakespeare Festival.
The Oregon Cabaret Theatre is a dinner theater that occupies the former First Baptist Church.  The food was delicious and the show was fabulous.  They do around five shows a year and have been getting great reviews.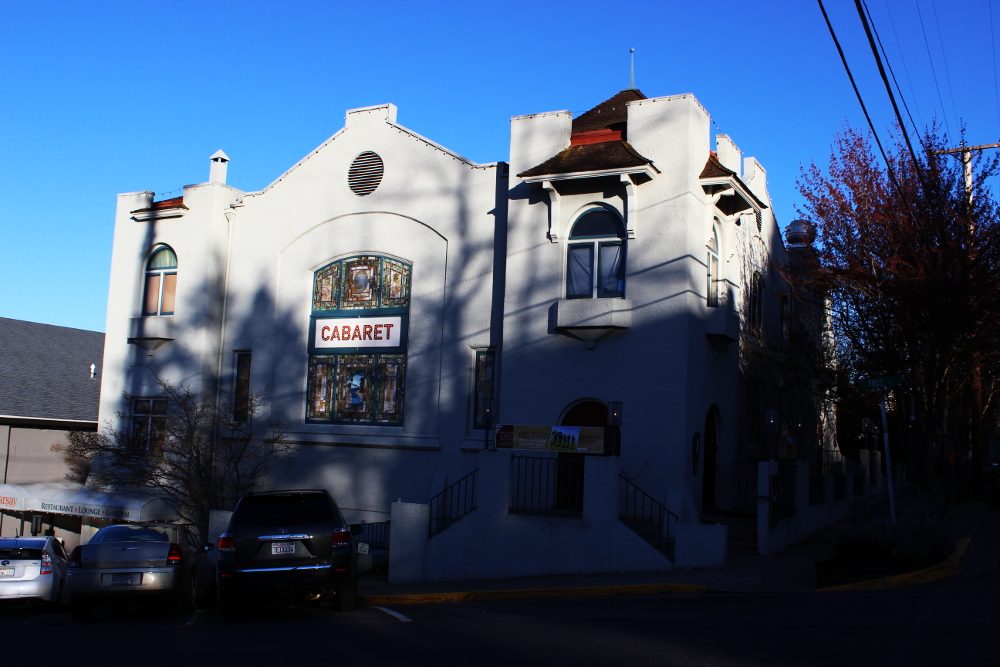 People come from all around the world to attend the Oregon Shakespeare Festival, which started in 1935.  It sells around 400,000 tickets of year to a variety of classic and contemporary theater.  Sue insisted that we see a show at the OSF, so we also attended a production of Yeomen of the Guard at the Shakespeare Festival.  It was great as well.  It was an immersive theatrical production, so there were actually audience members sitting on the stage, having to move around the actors as went from place to place.  So interesting!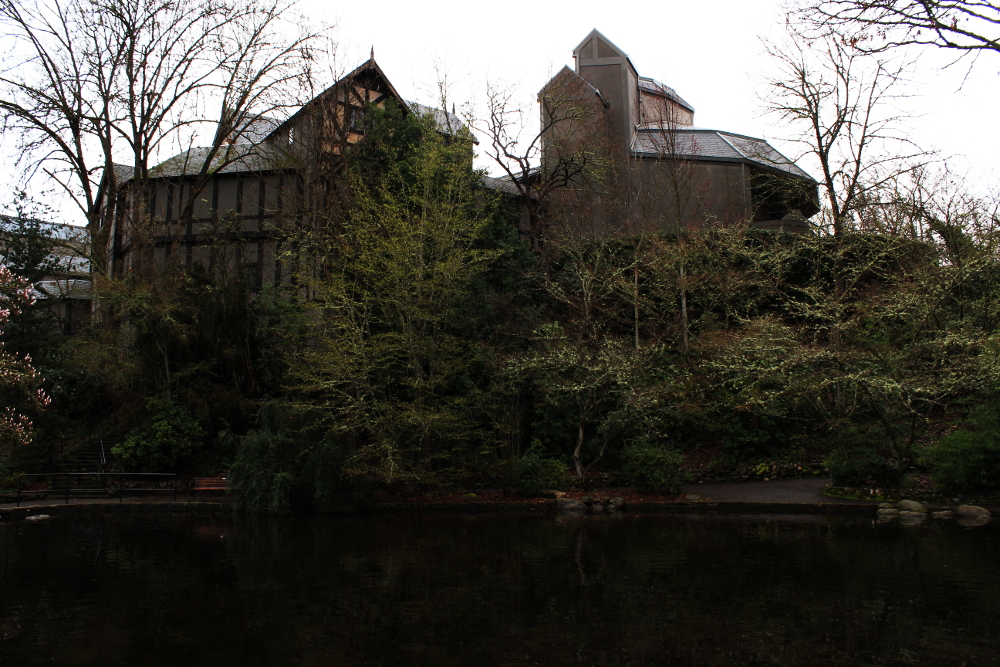 We stayed in the Ashland Springs Hotel, an elegant hotel, remodeled from an historic landmark dating from the 1920's.  The rooms were small but well done, and the lobby was incredibly interesting, done up in an explorer kins of motif with everything from cases of specimens collected to a lamp made from a surveyors stand.  It is right down town and it's big benefit is that it's right next to the Oregon Cabaret Theater, and a short walk to the theaters of the Oregon Shakespeare Festival.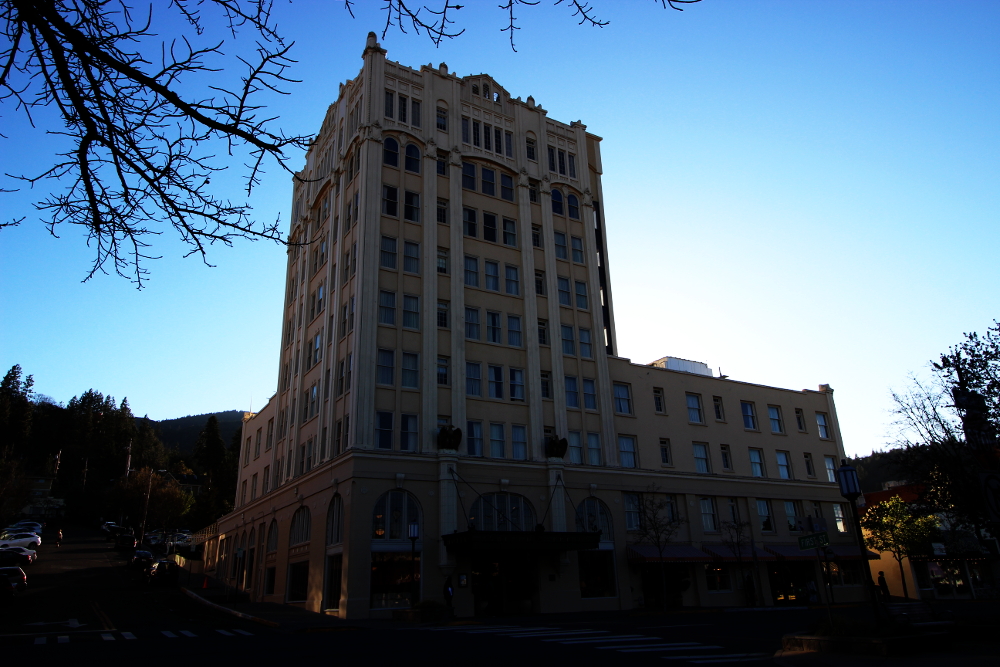 The Ashland Springs Hotel is pretty much the tallest building in Ashland.  You can see it from all over.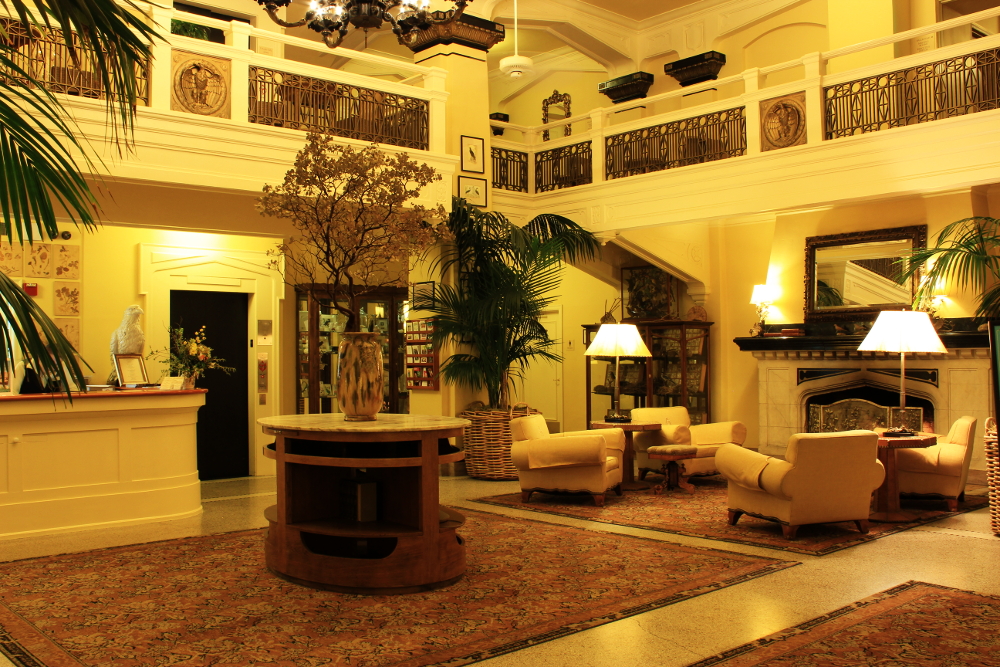 The lobby of the hotel has so many fun things to look at.  See the case just to the right of center in the above photo?  Check below.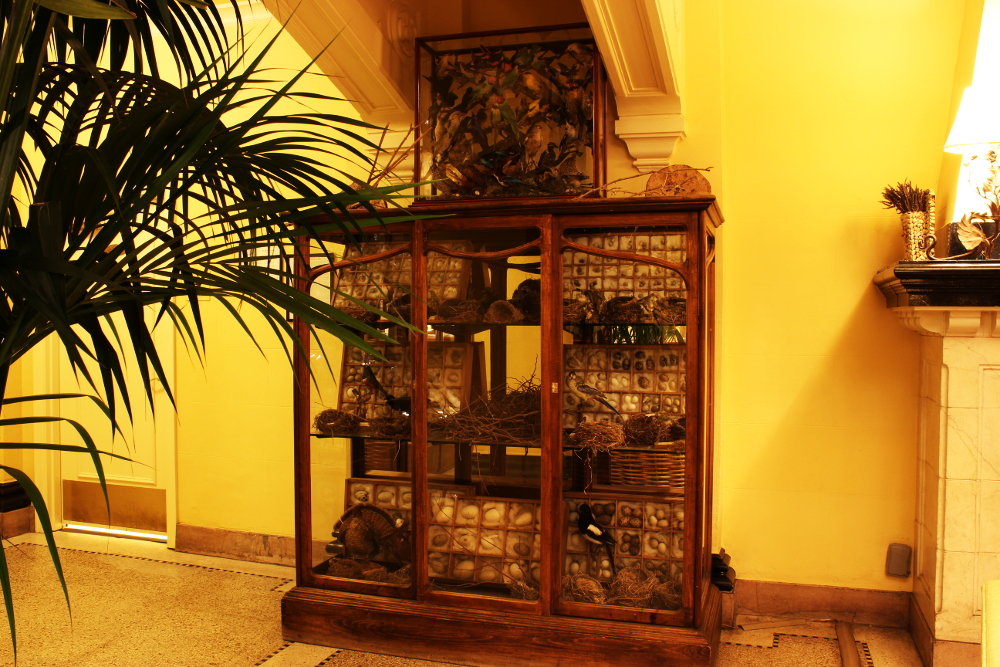 Here's that case a little closer.  If you look closely, it has a number of specimens that have been collected.  See below!
Here they are a little bit closer–this case holds eggs and birds nests and many other things related to birds.  There are other cases that held shells and related items from the sea.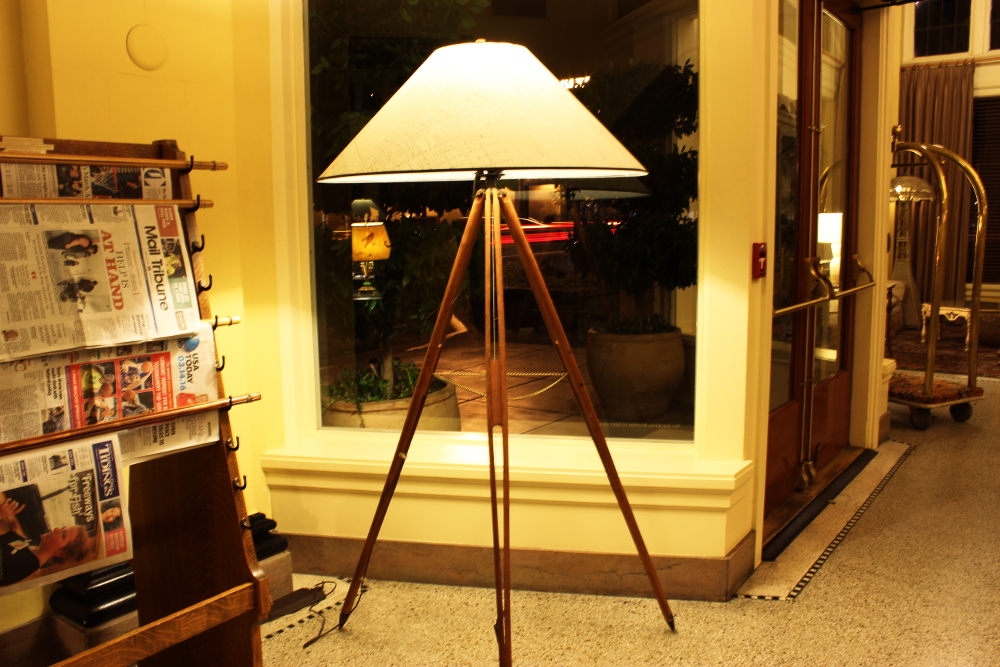 And here's that lamp that is made out of some type of surveyor's stand.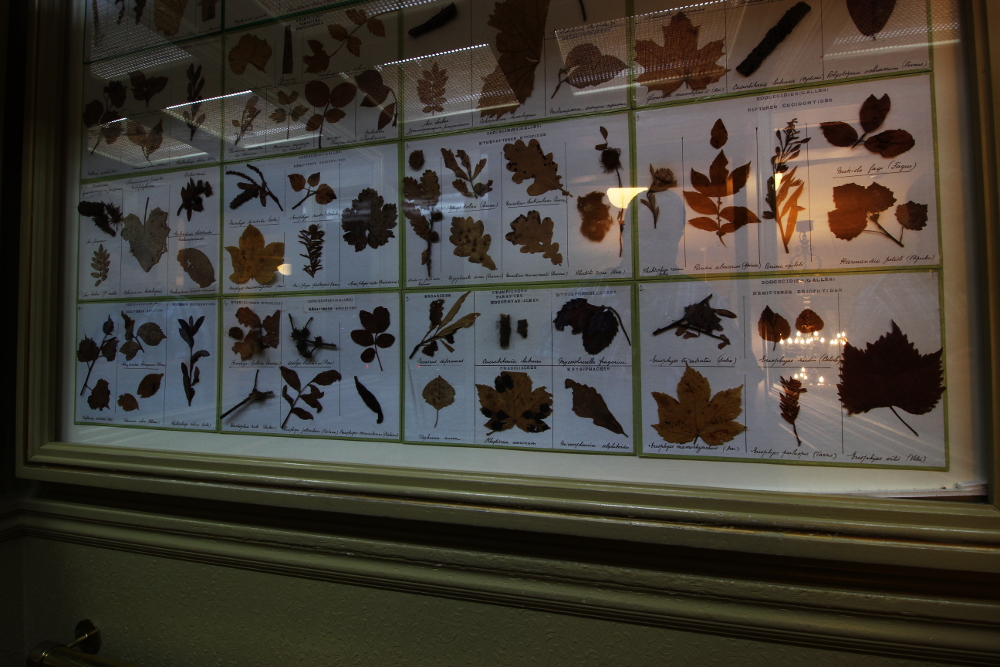 Even the elevator had specimens in it–leaves from all around Ashland.
The morning after arriving, we spent some time in Lithia Park, a beautiful 93 acre park straddling Ashland Creek for about 1 1/2 miles.  There are several ponds, fountains picnic areas, bandstands, tennis courts, and even a swim reservoir in that park  Even in March it was a beautiful green!
The city has tons of restaurants and shops catering to the attendees of the festival.  There is plenty to stroll around and explore for a few days.
Crater Lake is only a few hours away and we tried to make it up to see it, even though we knew the road around the rim would be closed.  Unfortunately, most of the first few days in Oregon were rainy and this day was no exception.  At higher altitudes, rain turned to snow and when the roads were very snow covered and the snow on the sides of the roads was 6 feet high and we were still 12 miles from Rim Village, we gave up and turned around.  The newly fallen snow on the pine trees that lined the road was gorgeous, though!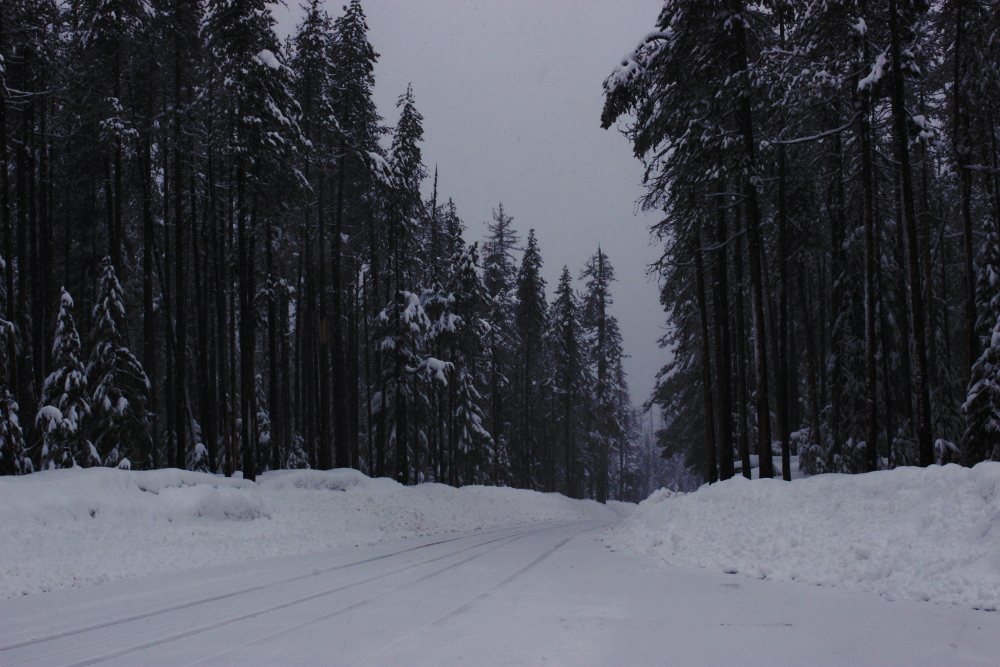 Along the way to Crater Lake, we stopped a visited a few waterfalls that had fairly easy hikes to them, Pearsony Falls, Mill Creek Falls and Barr Falls.  There are SO MANY waterfalls in Oregon (you'll more about this in posts later).
Back to Ashland.  In the early times, lithia water was discovered at a some nearby springs and townspeople thought they could capitalize on the mineral water to make bathes that people would come to soak in to get relief from various maladies.  That didn't last, but in 1927 they brought to water to a water fountain downtown that you can sample.  It's worth doing, but just take a sip!  It looks harmless enough, but has a pretty strong taste as Sue shows!  It has quite the flavor and a big gulp would be bit much!
Ashland is also the home of Southern Oregon University, which has about 11000 students.  One of the other claims to fame in Ashland is that it is the home of the world's only laboratory dedicated to the solve crimes against wildlife, the National Fish and Wildlife Forensics Laboratory.
Ashland is about three hours from the coast if you go where we went, which was to Bandon, Oregon, and maybe shorter as the crow flies.  Definitely a fun place to go for a few days, hang out, see some great shows, spend time in a beautiful park, and just enjoy life!
[scottsuesig/]