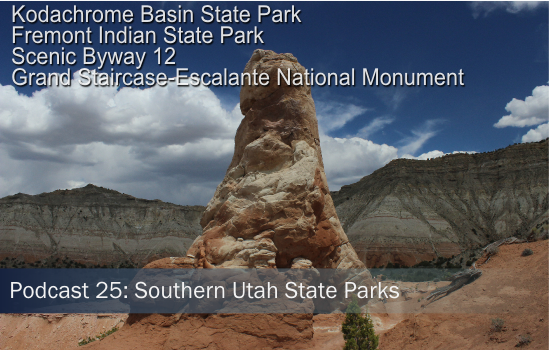 As part of our trip to Bryce Canyon National Park, Sue and I visited some of Utah's beautiful state parks, including, Kodachrome Basing State Park and Fremont Indian State Park.  We also took a beautiful drive along Highway 12, designated as an All-American road.   The scenery was beautiful.  In this episode, Sue and I talk about this part of our trip to southern Utah.
Podcast: Play in new window | Download | Embed
Subscribe: Apple Podcasts | Android | RSS
Kodachrome Basin State Park is a unique park in that is has geologic formations that are found nowhere else in the world.  Towering sandstone chimneys, over 70 of them, reach from the valley floor.  Spectacular color is all around, which brought the park it's name.  In fact, the park was named by the National Geographic Society, with consent from the Kodak Film Corporation.
There are a number of hikes you can take, and photo opportunities all around.o
In addition, we went to Fremont Indian State Park and Museum.  During the construction of I-70 in south central Utah, the remnants of a large  community of Fremont Indians were discovered.  Artifcacts are preserved in a museum and there are numerous examples of rock art are available to see.
We also drove along Scenic Byway Utah Highway 12, which is designated as a scenic byway.  Plenty to see along this road!
While we didn't go in the Grand Staircase-Escalante National Monument for reason's you'll find out in the podcast, we do talk about it.
Links that we mentioned in the podcast.
Fremont Indian State Park and Museum
Grand Staircase-Escalante National Monument
To listen to this podcast episode later, you can copy it to your computer and then listen.
Right click here and then choose save-as to download this episode to your computer
Or you can subscribe to the podcast in iTunes or Stitcher.
[scottsuesig/]